Myanma Insurance
Myanma Insurance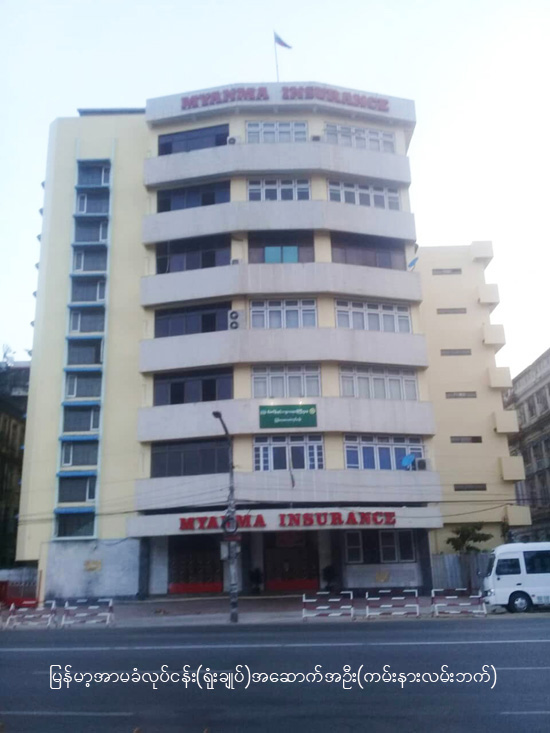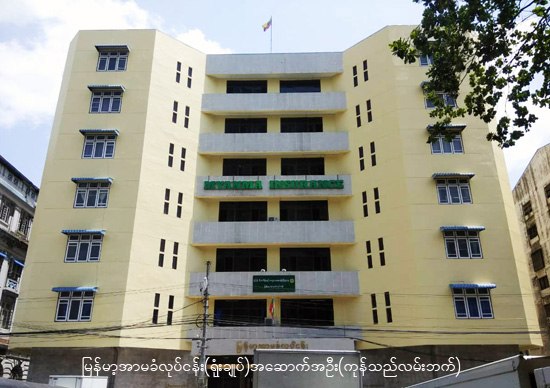 Head Office
Address    :    627/635, Merchant St., Yangon, Myanmar.
Phone No.    :    (95-1) 379696, 252373, 252434
Fax No.    :    (0095-1) 387247, 250275
E-mail        :    MYANMAR[email protected], [email protected], [email protected]
Website    :    www.mminsurance.gov.mm
Our Vision
Myanma Insurance has its vision on that is necessary for eradicating publics' looses economically and socially due to act of God and act of human beings.
Our Mission
By utilizing insurance in the name of risk management, Myanma Insurance takes its mission enthusiastically to render recoupment of past losses for publics those who suffered from economic and social losses due to act of God and act of human beings.
Myanma Insurance
Myanma Insurance, the state-owned insurance company, was founded in 1952 and started as a life insurer but later it underwrites both life and non-life insurance.  Currently it underwrites the following portfolios:-
1. Government Services Personnel Life Insurance)
2. Army Personnel Life Insurance
3. Public Life Insurance
4. Group Life Insurance
5. Seaman Life Insurance
6. Life Insurance for Personnel with Shore Job
7. Sportsman Life Insurance
8. Snakebite Life Insurance
9. Health Insurance
10. Farmer Life Insurance
11. Fire & Allied Perils Insurance
12. Burglary Insurance
13. Fidelity Guarantee Insurance
14. Cash in Safe Insurance
15. Cash in Transit Insurance
16. Personal Accident & Disease Insurance
17. Workmen's Compensation Insurance
18. Liability Insurances
         (a) Miners' LIability Insurance
         (b) Third Party Liability Insurance/Public Liability Insurance/ Comprehensive General Liability Insurance
19. Contractor's & Machineries Insurance
         (a) Contractor's All Risks Insurance
         (b) Erection All Risks Insurance
         (c) Electronic Equipment Insurance
         (d) Machinery Insurance
20. Deposit Insurance
21. Marine Cargo Insurance
22. Marine Hull & Machinery Insurance
23. Aviation Hull Insurance
24. Aviation Liability Insurance
- Crew Personal Accident Insurance
- Aviation Hull Deductible Insurance
- Aviation Hull War & Allied Perils Insurance
25. Travel Insurance
26. Ship Owner and Ship Operator's Liability Insurance
27. Tiger Fishing Barge Owner's Liability Insurance
28. Oil & Gas Insurance
29. Third Party Liability Insurance
30. Comprehensive Motor Insurance
Its head office is situated at no. 627/635, Merchant Street, Yangon, Myanmar and it has 39 branch offices at cities and towns nationwide.
Myanma Insurance has huge reserve funds (Life Fund Kyats 18064.23 MIO, General Fund Kyats 132558.88 MIO, General Reserve Fund Kyats 11368.22 MIO) and has a substantial reinsurance cover.  It has Marine Excess of Loss Reinsurance Treaty, Fire Excess of Loss Reinsurance Treaty and Motor Facultative Obligatory Treaty and Energy Treaty.  These Reinsurance Treaties are placed with top-notch reinsurers.  Furthermore, Myanma Insurance is backed by the Government,   which   assumes all the liabilities of it under the Myanma Insurance Law. So, Myanma Insurance is the insurer who will never be liquidated. Myanma Insurance is also reputed as the insurer who will never run away from a legitimate claim and it has paid total of kyats 7668.15 million in claims in the last financial year (2017-2018).
Myanma Insurance, like all other insurers, is using agency system extensively and from time to time new agents are recruited and trained.
Since Myanma Insurance is a state-owned insurer, the laws require that all the foreign investors must buy insurances only from it.